Will You Join #TeamReClaim And Take Back Your Life?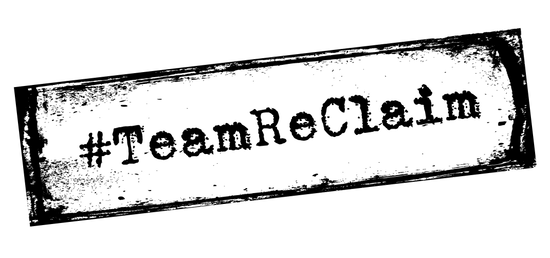 As we approach a new year, many find themselves evaluating this past year and setting goals for the new year. Which is great, except for the fact that the majority have a proven track record of never reaching their goals each year. If you look back over the past five years, do you like what you see? Because the chances of the next five years being just like the past five are high in your favor. If you don't like what you see with your life in the past five years, then it's time to change what you are doing! How you spend your days, ultimately will be how you spend your life. I think many have fallen for a lie that they will just wake up one day and be successful, or they will all of the sudden have a big bank account. Or even when it comes to family life, that one day everything will be magically fixed, your marriage will be awesome and you will have amazing kids.
Unfortunately, it just doesn't work that way. Success in your business, finances, and family all take effort. And without the proper steps and strategies, that effort can feel like you are beating the air. This is why I am starting #TeamReClaim, a group of people that are ready to strategically take back and reclaim their family, finances, and business.
The Cool News:
I am going to be holding a 21 day training series starting Jan. 1st 2013. Each week we will be having training calls using three principles and how to implement these three principles in these three categories of your life.
The Good News:
I am doing this completely complementary because I want to help you get the right kind of start to your new year and I believe this training will be crucial.
The Best News:
With the principles we will be covering each week, if you implement them you WILL see results! (Or your money back! Wait… you're not paying for this)
The Cause:
Besides wanting to help you, I wanted all of us to be able to help others. In a my recent blog post titled Does Your Business Have A Purpose? I talked about having a cause to fight for within your brand. Well, with #TeamReclaim, we are also selling #TeamReClaim t-shirt to help raise money that will go to fight against human & sex trafficking. That stuff makes my blood boil and I want to help these innocent kids, babies, and adults ReClaim their lives!
If you are ready to ReClaim the areas in your life that have taken over and causing you to neglect other areas, if you are ready to ReClaim your life, you can click here and find out more. I will also be hosting a call on the 29th that will go into greater detail about how you will be able to ReClaim your family, finances, business, time, and whatever else you may need to take back.
Don't let 2013 be like the past five years, let's make it the best year yet!
Welcome to #TeamReClaim!